News Center
HOTLINE+ 86 13837162063
5-500t/24h European Standard Quality Wheat Flour Mill
Updated:2017-10-26 14:56:36 Author: Views: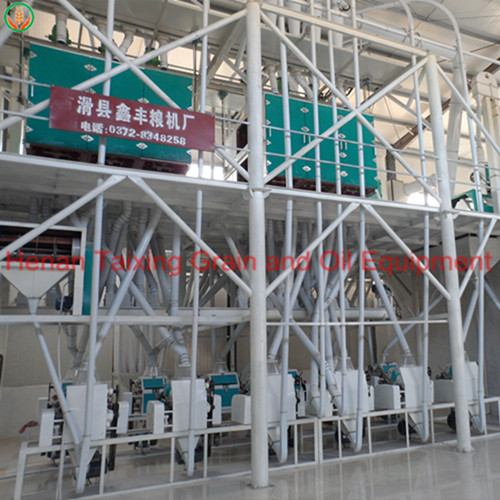 Product Description
Product name:

5-500t/24h European Standard Quality Wheat Flour Mill
Production capacity (T/24h):5-500ton
Final products:Super Fine Flour
Color: According to customer requirements
Main machines: roller mill, double section plansifter, conveyor, bran brusher etc
Cleaning Techniques:The use of three sieve two dozen two to stone, a wash wheat dry, a magnetic election, two times dust, four ascension, the process clean effect, high output, power consumption, dust removal effect is good, no dust.
Products and extraction rate (%):Grade 1 flour:≥65%,Grade 2 flour:≥75%,Standard flour: ≥80%
The process that 5-500t/24h European Standard Quality Wheat Flour Mill is produced can be roughly divided into 3 parts:

To ensure the color and quality, grains should be firstly put into certain machines like Gravity Grading De-stonner, High and Square Shaking, Magnetic Separator, etc. to remove impurities like crushed stones and sands in it.
To break the integrity of grain, reduce the ash content and grade milled flour, main part of flour making: Roller mill, Lying Grinder, Purifier, Sifting machine are indispensable.
The packing machine can be manual as well as automatic, it can be designed as required.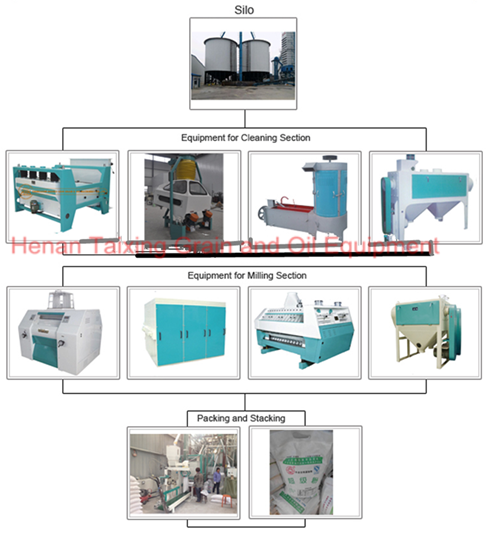 why choose us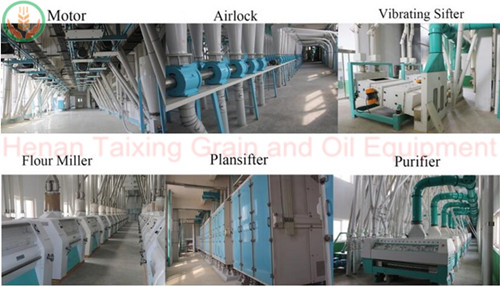 1. Roller mills are manufactured precisely and controlled by manual or pneumatic mode. It can make better grinding effect comparing with other ordinary mills.
2. Complete sets of wheat flour mill adopt various configuration modes for different choices. There are streamlined design, reasonable layout, beautiful performance. It can be installed on a steel frame structure or in a building structure.
3. The flour mill is with advanced technical process and flexible adjustment. It can produce grade flour and special flour etc.
4. Perfect after-sales service is also supplied for complete set of flour mill.