News Center
HOTLINE+ 86 13837162063
50ton per day Wheat Flour Mill Installed in Africa Quality Flour Mill
Updated:2017-11-02 14:49:07 Author: Views: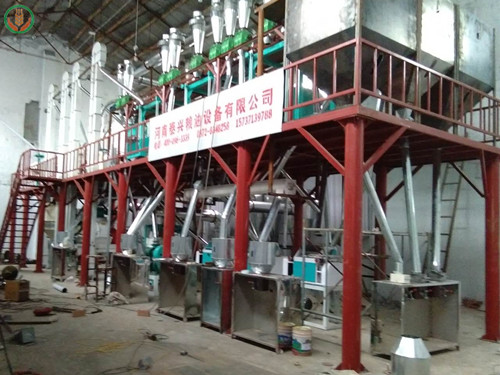 Product introduction
Product name:50ton per day Wheat Flour Mill
Production capacity (T/24h):50ton
Final products:Super Fine Flour
Color: According to customer requirements
Main machines: roller mill, double section plansifter, conveyor, bran brusher etc
50 tons wheat flour mill plant digestion and absorption of international advanced milling equipment, the use of advanced milling technology, light grinding, fine milling machine precision grading, wheat core grading grinding, light roller grinding, impact milling, can obtain higher-level special powder.
The process of 50ton per day Wheat Flour Mill usually consist of the following:
1. wheat storage (silos, or warehouse) ---------- 2. cleaning system (sifter, destoner, seprater, magnet, scourer, etc) ----------- 3. dampening (dampener, conditioning silos, etc) ---------- 4. milling system (roller mill, plansifter, purifier, impact detacher, etc.) ---------- 5. Flour pressure and blending system (if need) ---------- 6. flour packing and stacking.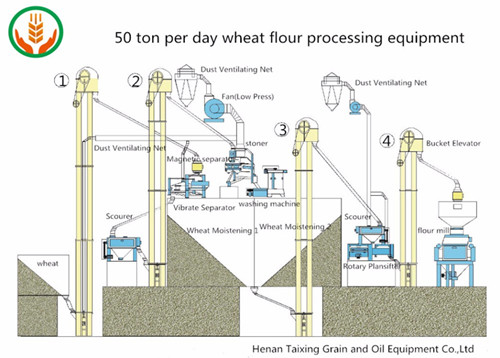 Taixing Grain and Oil Equipment Co.,Ltd can produce the capacity of the maize/wheat flour milling
machine range from 5 ton per day to 500 ton per day .If you are interested in our products,
Henan Taxing Grain and Oil Equipment Co.,Ltd
Cell/whatsapp/wechat: +86 13837162063 | +86 371 60908495
Email: melody@taixingmachinery.com
Address: Building 35,Henan University of Technology, Hi-tech Zone,Zhengzhou City, Henan