News Center
HOTLINE+ 86 13837162063
How to select the high quality corn/maize flour milling machine
Updated:2017-11-23 15:16:10 Author: Views: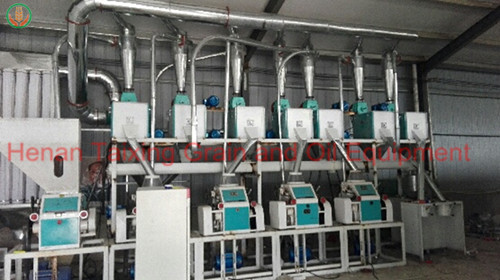 The picture above is 25-30ton per day maize flour mill plant
Flour machine manufacturers in the purchase, should pay attention to some issues:
1.maize flour milling machine for casting materials, complete steel-welded, unless there are special cutting function, in synchronization with the grading device, the crushed materials under the action of the air flow, the grading device and collection, grading device usually replace grinding equipment, screen, can be completed at the same time fine crushing and powder sorting two processing procedures disposable into powder, no residue,
the rate of finished products 100%.
2.maize flour machine can adjust product fineness, uniform size, without increasing the sifter screen.Flour machine wearing parts all adopt the special wear-resistant material or hard alloy manufacture, good wear resistance, the replacement cost of wearing parts, with a variety of products hygienic standard.
3.maize flour machine equipped with a cooling device, the heat-sensitive materials processing to guarantee the material color, taste and quality.Common type has good heat removal function, can avoid the temperature rise on the materials caused metamorphism, capable of continuous operation.