Product Description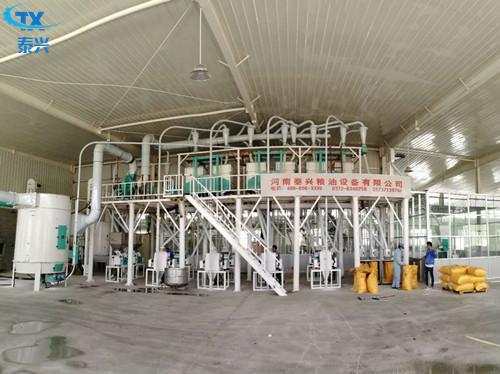 Product name
:
50T/D Fully Automatic Complete Flour Milling equipment/Wheat Flour Mill
Production capacity (T/24h)
:50ton
Certification
:CE, ISO
Final products
:Super Fine Flour
Brand Name
:TAIXING
Voltage
:380v
Color
: According to customer requirements
Product Application
50T/D Fully Automatic Complete Flour Milling equipment/Wheat Flour Mill
digestion and absorption of the international advanced milling equipment, the use of advanced milling technology, light grinding, fine milling machine precision grading, wheat core grading grinding, light roller grinding, impact milling, can obtain higher-level special powder.
50T/D Fully Automatic Complete Flour Milling equipment/Wheat Flour Mill
Cleaning part:
Screening: to remove large and small impurities in the wheat seed.
Destoner: to remove stone in the wheat.
Magnetic separator: remove metal material in the wheat.
Beat: to remove dust sand small seed, bacterial count and insect seed.
Dampening: to ensure the bran's integrity during the milling processing
Flour milling part:
Mill: to break the integrity by the roller moving
Sifter: to separate the flour and bran, also separate large size and small size to enssure flour quality.
Packing part:
The packing part can be manual one also can be auto one.
Product specification
Products and extraction rate (%)
:Grade 1 flour:≥65%,Grade 2 flour:≥75%,Standard flour: ≥80%
Flour quality
: Better than GB1355-88 (National standard of China)
Power required (kW)
: Around 110
Size of workshop(L×W×H, m)
: 30×7×7


1) grain processing equipment (mainly for wheat and maize/corn)
2) high-quality and competitive price
3) professional technique
4) unique design
5) high efficiency and low consumption
6) low noise